Beginnings in Hinduism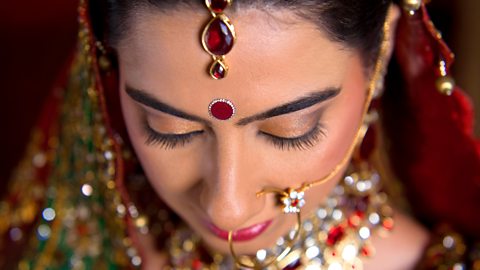 I grew up in a Hindu family, and I can remember my mother worshipping idols, sitting in front of little silver idols. She bathed them in a little plate and would adorn them. I grew up with these rituals but didn't really understand anything.
Religious Activity
We prayed to different Hindu idols. When I was young I went to religious studies class about Hinduisim but it seemed like a story.  Whatever our parents said we did, i.e at a festival called Diwali, coins would be washed and our parents taught us to worship the coins, telling us we would get money from doing it, but there was no meaning to it.  The coins had goddess pictures (the goddess represented prosperity).  We had to wash them with milk and add flowers.  However, a lot of things didn't make sense. 
I got married in the Hindu way. In our marriage home, Hinduism was practised. My husband was not so religious but he went along with it. I used to do the same things my mother did, not questioning it. I kept an altar of idols at home that I would go to in prayer.
Disillusionment/changes happening
In 2017, I became sick from side effects of some medicine. During this time, I continued to go to the altar to pray in my home. My altar also had a picture of Jesus in there. But 1-2 years before, I was hearing a lot about Jesus from my sister in law who would visit and talk about Jesus being "the light", and the only way to heaven. I would always get upset with her about it, and my husband would say to her "why are you forcing this?" But I had actually stopped going to the Hindu temple and stopped doing the rituals. I had started to feel put off from going, slowly. I didn't realise God was starting to work in me. When I used to go to my altar, I started to experience that my idols would 'disappear' and I would only see the picture of Jesus. Every day and night I continued going to altar to pray and the idols would fade away from sight, except seeing Jesus. I was wondering, how is this happening? Then the only one I was praying to was Jesus.
One day, a voice spoke to me telling me "get rid of your idols". One day at the restaurant, we met our old friend who is a Christian Pastor. He also would tell us to believe and would pray for us. So this particular day at the restaurant, I told the Pastor about the altar experience, but I didn't tell him that God said to remove the idols. The Pastor asked to pray for me, then after praying for me he requested to just pray by himself, and closed his eyes. I watched him quietly praying. When he finished, the Pastor said that God told him "Nisha needs to remove her idols". I then told him what God had said to me too. So the Pastor said "what are you waiting for? Are you afraid of family? This is confirmation." I said I was not afraid of family.
A few days went by, and I was still being reminded to remove the idols. One day while I was having panic attacks, I called my sister-in-law telling her I don't feel well. She said "God asked you to remove the idols, what are you waiting for?"I had also begun to listen to worship music. One evening I was sitting and listening to worship music, and I just took a bag and removed all the idols from the altar into the bag. I called the Pastor and told him. He asked if he should come for prayer and I said yes. He came, anointed me and the whole house, then we went to the restaurant and prayed there. I handed over the bag of idols to him.
New faith in Jesus
I started going to church from then. I also knew I had become a Christian, 'born again' (new spiritual life). Every day when I was sick and had panic attacks, I would open and read the Bible, and the attacks would stop when I would just read over and over again. God healed me.
God also worked in my life to heal me from another health issue which happened. The situation led to my husband coming to the faith.